Official Press Release,
September 5, 2016 New York, NY
Krel Komix announces the publication of chapter 3
of the graphic novel: ARGENT STARR — TALES FROM THE ARCHIVES
CYG CITY BLUES
By Altemus & Lyn T. Byrd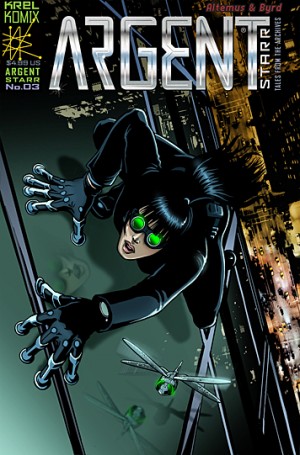 Our striking full color 32-page issue, Cyg City Blues, is the third chapter of a six issue arc that follows Argent Starr and his crew on their quest to recover the Cardinal Stone, The book is available on Comixology as a digital download for $1.99 and on IndyPlanet.com for print-on-demand copies at $4.99.
About ARGENT STARR — Tales From the Archives
By Altemus & Lyn T. Byrd
The year: 2062. "They" have a plan for Earth and they're NOT going to ask if we like it or not. Is the fate of the planet really in the hands of a half-alien hero scientist, a female sniper, and a talking cat?
Only one man on Earth, technopath Argent Starr, the half human son of an alien warrior-scientist, can deflect the coming threat. His team; the ravishing badass commando Mrs. Thorne, and a trouble-making, brain-enhanced talking cat. The trio are swept into an adventure pitting shape-shifters, alien gamblers, interstellar mobsters and a mysterious galaxy-controlling sect, against Argent's hyper-tech powers of magic and super science.
In chapter three Argent and company investigate the theft of a long lost ailen weapon. The book follows Argent's team and the seemingly unconnected actions of a rogue super spy, and a bunch of out-of-control aliens, all pursuing wildly different secret agendas on Earth.
Argent Starr is adult entertainment combining hard science, soft sex and satire, for the geeky and not-so-geeky masses; a mix of action-adventure with elements of fantasy and comedy, featuring sabotage, assassins, sex, drugs, high-stake casinos, and espionage. Fans of properties such as Guardians of the Galaxy, Farscape, The Adventures of Buckaroo Banzai, The Fifth Element and Men In Black.