ABOUT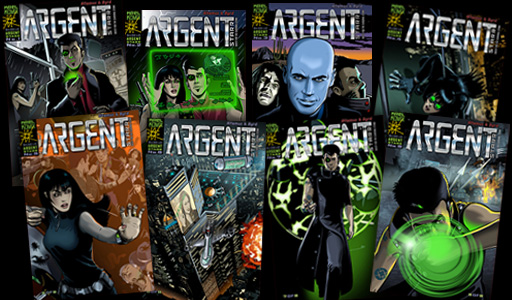 Argent Starr — Quest For The Cardinal Stone is a graphic novel where hard science meets soft sex, fantasy and humor. Your introduction to Argent Starr's universe unfolds throughout these 8 stylish chapters.
Each issue is packed with back matter that adds to the experience by presenting information about characters, locations, technology and the rich history of this expansive universe. Each issue includes striking pin-ups, never before seen production artwork and schematics, all providing the reader with smart sexy Sci-fi, action, mystery and fun.
Chapters 1-4 and 5-8 of this graphic novel, including all back matter and cover art have been collected into the Volumes 1 & 2 – trade paperbacks.
In addition to the beautiful collector's print versions, our story is availableas digital downloads on Amazon, Comixology and IndyPlanet, and are viewable on mobile platforms and promoted via social media. We will continue to stream a series of engaging animated previews for our fans.
To help draw in new readers, the first three chapters are available to view and read here as a free Webcomic.
Also in the works from Krel Komix — future adventures for Argent and his team, and a couple of spin-offs; a Mrs. Thorne title with action, comedy, love and a giant robot, and mystical sci-fi spy stories that follow Lazarus Stern rogue agent of g_Division.
This clip [ 0:23 sec] Argent Starr's upstate NY residence, a dilapidated
1960s motel he's slowly renovating on the edge of a radioactive exclusion zone.