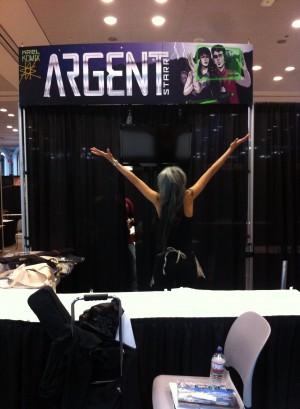 This was our first Con, and since I had to scour the internet prior to the event to find any sort of "nuts and bolts" info for small exhibitors, I thought I'd share our experience with everyone in perhaps too much detail. Keep in mind that this info is specific to the Javits Center and NYCC so your Con may be different.
Obviously, to keep costs down we used stuff we had on hand and we got a number of things from our fantastic neighbors who lent us stuff like hand carts, a folding chair, milk crates for transport and more. There are a lot of small details to work out in the set-up of you booth's display and I'll go over many of them here.
STAFFING
First, you'll need help, one or two additional people each day. The Con goes for 7-9 hours per day, bathroom breaks alone can easily take 20 minutes, and it's good to have a "point" person out in the aisle whenever possible.
RESERVING A BOOTH AND SERVICES
We reserved corner booth in the Small Press section in early July, at a cost of $1,273. The regular booths were going for about $950. In addition, we needed electricity ($150), and we thought we needed Wi-fi ($40) to use the Square reader on an iPad since we didn't have a smart phone. Because it was a corner booth we also rented a second table ($78) so we could arrange the tables in an 'L-shape'. (We could buy one slightly cheaper but didn't want to haul it or store it).
If your looking for something less expensive, there is Artists Alley; it's little more than a table and chair but it costs around $500 and can even be shared.
OUR PLAN
Against our booth's 8′ x 8′ black curtain backdrop we wanted to have a video monitor playing our animations, and also to display eight of our 11′ x 17″ posters that we planned to use as incentives. In addition, we needed to deploy our 30″ wide x 8′ tall retractable banner sign as well as display the Krel Komix logo. Later on we decided to add another 2′ tall x 8′ wide banner that could be mounted above the backdrop.
On the table tops we wanted to use a POP display to hold 3 single issues in a row and another one to hold the trade paperback we were going to premier at the Con. The displays would be emblazoned with our tagline "Is the fate of Earth really in the hands of a half-alien tech wizard, a Latina sniper, and a talking cat?" and they would also promote our 'Show Special' discounts.
Copies of our four books would sit directly on the tables for browsing, along with a display of our limited edition trading-card set, a display of the 1″ buttons we had for sale, a pricelist, a sign featuring some of our review quotes, and stacks of free postcards and pinups. Our booth was admittedly going to be slicker and more complex than most in the Small Press area, but we are multi-discipline designers and just can't help it.
THE BOOTH
NYCC Small Press booths are 8′ wide and 6′ deep. They are surrounded by 8′ x 8′ black drapes supported by a framework of joined pipe. The booth only comes with one table and one chair, and while the main aisles are carpeted the booths are not.
The pipe for the backdrop is 1″ diameter aluminum. The horizontal top pipe is hung with 5 black curtain panels that can be slid along the pipe to create gaps every foot and a half or so if necessary. Sliding the curtains around were important to us because we were using professional pipe hanging clamps to secure our monitor and needed bare pipe to attach them. If you want to hang anything that has some weight, like the TV monitor that we used, you'll need a good method of hanging it that the union guys in charge will approve. They recommend no more than 40 pounds of hanging stuff and that weight is split between your booth and the one you back up to.
THE SIGNAGE AND DISPLAYS
In addition to some writing and the drawing and inking of Argent Starr, I'm also a professional designer with many years experience, and know how to make my own signage and pop-up displays, which was a big help and kept additional costs down.
All signage and displays were made out of color printouts glued to black Foam Core. To keep things flat for transport I put together Velcro attachment points so I could quickly flatten the stand-up displays and re-construct them on site. I produced one to show three issues of our book and a narrow one for our 104-page trade. We also had non-standing displays for our trading card set and the 8 posters.
We found out that we were allowed to have signage as high up as 10′ even though the backdrop ended at 8′, so we added a 2′ high x 8′ wide Foam Core banner above our booth. Very few exhibitors use this space above, but this full-color banner looked terrific and was visible from way across the show floor!
To hold the top banner I used two professional telescoping light stands which I chocked up on top of two sturdy one-foot-tall cardboard tubes and then lashed everything to the backdrop's upright pipes with duct tape. The banner itself was in two sections which were assembled with Foam Core strips and Velcro. More Velcro was used to strap the banner to the light stands.
THE TECH
The monitor was a 32″ flat screen and under 12lbs. It was hung from pipe clamps using "S" hooks and doubled-up mid-weight black chain usually used for hanging lamps. I did see the monitor swing a couple of times so it was good that we were careful in it's deployment. Remember that your backdrop is attached to all the others in the row so you have to allow random shaking now and again.
We also had a Mac Mini to run everything and a set of Bose desktop speakers to play our hot new video's soundtrack. Don't forget all the little things, cables, a good powerstrip and adaptors.
We had a 22HD Wacom there on the table top, and the idea had been that occasionally I would do some inking on the tablet and mirror the desktop up on the 32″ monitor. This worked well and drew people to the booth, but it didn't seem like the right environment, a bit too slow, and the down side of using the tablet to ink on site is that I had my face buried and was not interacting with potential customers. When we were not using the Wacom for drawing it was turned to face the aisles and functioned as a second video monitor.
SETTING UP THE BOOTH
These booths only get 3 exhibitor badges so the logistics of getting your stuff into and out of the center should not be overlooked. The day before the Con we got a friend with an SUV to ferry us to the Javits Center. With careful planning everything fit on three hand carts and in numerous canvas shoulder tote bags we carried. The actual setup time once we were there was about 4 hours, but our booth display was more complicated than most in this area.
A number of vendors just deploy one of those retractable banners and plop down their box of books and are ready in a snap — everyone is different.[portfolio_slideshow align="left" speed=400 timeout=4000 id=3853]
WI-FI AND TECH
The Wi-fi was real wonky, the one I paid for which was supposed to be the new and improved faster flavor, choked entirely under the weight of tens of thousands of attendees and all the exhibitors. It was down entirely for most of the first day. Eventually I got a password to a higher bandwidth connection from one of the techs who was tired of dealing with the poor service.
If I had stuck with the Wi-fi I was supposed to use it is doubtful that it would have worked for me. The cell service was also spotty, depending on the time, phone model and location, not to mention it's as noisy as hell's own pinball arcade in there.
Our electric went out a couple of times, the cables were a little temperamental. An on-site electrician came by and fixed it each time, but that meant we were without our video for an hour or so, a couple of times.
SQUARE READER & SHOPPING CART
As it turned out we only used the Square reader a few times each day, most of the attendees had cash. And if you use the Square checkout shopping cart system, to be legal you will have to collect sales tax. To do that you need to apply to your State's tax authority for permission to do so and then file at least one monthly report of the sales and the taxes collected.
GETTING SALES
The Con this year had 180,00 attendees, that's 180,000 people who are NOT there to see your unknown or relatively unknown property, even if it IS the next big thing. Most people passing by are just cutting through the Small Press aisle because it isn't as over-crowded. If you don't try to engage them almost no one will actually stop at your booth.
To be effective you need one or two people out in the aisle trying to give out handouts and deliver your short pitch line. The best way to "hook" people is to engage them, comment on something of theirs, their costume, maybe they are wearing a T-shirt for a character…"I see you're a fan of Dr. Who" or "Are you enjoying the Con?" and so on. Then they will take your handout and start examining it or asking questions.
If an attendee gets interested they can be passed off to someone behind the table who can deliver more info and explain any special deals, and hopefully close a sale.
I had different people on different days and not all of them were completely indoctrinated into the universe of Argent Starr so I made cheat sheets that spelled out our offer and specifically how we wanted to talk about our property.
MAKING SALES
You really need a "call to action" that's a special offer to clinch a sale at the Con, some percentage off your prices, and/or something free, or even better, both. A number of booths had random free stuff, like lollypops, stick-on mustaches, etc. with a sign "FREE" — those seemed to draw people in.
We had a 10% discount, a free poster (they could choose from 8 designs), and a full set of our limited edition trading cards. This worked very well and we had a high success rate once we got to deliver our pitch lines and explain the Show Special offer.
HANDOUTS
We had postcards, b/w line art pin-ups of the main characters, and info sheets that we handed out for free. I think we gave out about 1,000 postcards, but you'd have to be aggressive to do that. The line art pin-ups looked like coloring book pages so they were popular on kids day. We have a PG-13 book so we decided to let the kids pick up the artwork and monitor what they saw and quietly inform parents.
ECONOMICS
I think it would be very hard to actually turn a profit in these circumstances, we looked at it as a marketing effort, to build audience, get some press coverage and make professional contacts. I think from that perspective it was a successful Con for us, but it's quite exhausting. NYCC is 4 days, plus set-up day and breakdown. I think part of the reason why it's tiring is that all the constant visual and auditory input kinda fries your brain.
Another booth near us was selling copies of a print book, it was an established property and a best seller on Amazon. They wanted to sell about 80 books to break even on the direct costs. They did that, but I think not much more. They had no electric or Wi-fi and had 3-4 people at all times so I think personnel cost was not included in their cost calculations.
We did OK on sales for a debut, most info I have found is that you'd be lucky to sell 50 books at the Con.
I hope this info will help any of you out there who are thinking of exhibiting at a Con.