SHOP
ONLY AVAILABLE HERE
LIMITED EDITION COLLECTORS SET
(DIRECTORS CUT)
Get chapters 1, 2 & 3, signed by the creators, and bundled with a set of 8 limited-edition trading cards.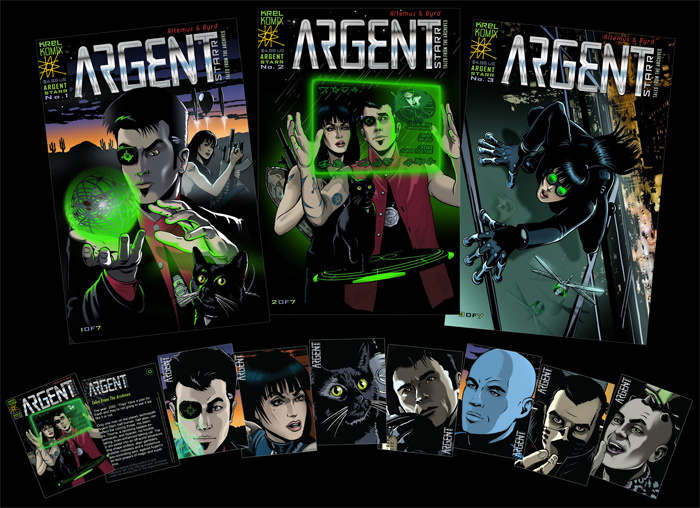 The cards in this set, each feature a portrait of one of the seven main characters with a brief bio on the back. This is a rare, hand bundled, PREMIERE set of cards. The portrait cards are branded with the project's working title — "Argent Archives, and the additional cover card is branded ARGENT STARR.
Only 150 sets of these, individually numbered, beautiful full color cards were ever produced, so supplies are limited. $19.99 Plus USPS domestic shipping of $5.00.
Use the Pay pal button below to purchase.
---
CURRENT ISSUES AVAILABLE ONLINE
Quest for the Cardinal Stone — A seven book arc.

CHAPTER 1
Commencing Countdown
DIRECTOR'S CUT
32 pgs.+ covers

Digital First on
COMIXOLOGY
for only 99¢


Collectors POD print edition on
INDY PLANET
for only $4.99

---


CHAPTER 2
Seven On Earth
DIRECTOR'S CUT
28 pgs.+ covers

Digital First on
COMIXOLOGY
for only 99¢


Collectors POD print edition on
INDY PLANET
for only $4.99

---

CHAPTER 3
Cyg City Blues
DIRECTOR'S CUT
32 pgs.+ covers

Digital First on
COMIXOLOGY
for only 99¢


Collectors POD print edition on
INDY PLANET
for only $4.99

---

CHAPTER 4
Station To Station

28 pgs.+ covers

Digital First on COMIXOLOGY
for only 99¢


Collectors POD print edition on
INDY PLANET
for only $4.99

---

CHAPTER 5
Silhouettes & ShadowsNEW!
32 pgs.+ covers

Digital First on
COMIXOLOGY
for only 99¢
AVAILABLE NOW

Collectors POD print edition on
INDY PLANET
for only $4.99
AVAILABLE NOW

---

CHAPTER 6
Let's Dance

32 pgs.+ covers

Digital First on COMIXOLOGY
for only 99¢
AVAILABLE
SEPTEMBER 2018

Collectors POD print edition on
INDY PLANET
for only $4.99
AVAILABLE
SEPTEMBER 2018

---

CHAPTER 7
Out of the Blue

28 pgs.+ covers

Digital First on
COMIXOLOGY
for only $1.99

AVAILABLE OCTOBER 2018

Collectors POD print edition on
INDY PLANET
for only $4.99
AVAILABLE OCTOBER 2018

---