SHOP
ONLY AVAILABLE HERE
LIMITED EDITION COLLECTORS SET
Get the entire eight-book 248-page arc, Argent Starr – Quest For The Cardinal Stone, that's been beautifully bundled into two volumes, each signed by the creators, and packaged with a set of 8 limited-edition, numbered trading cards.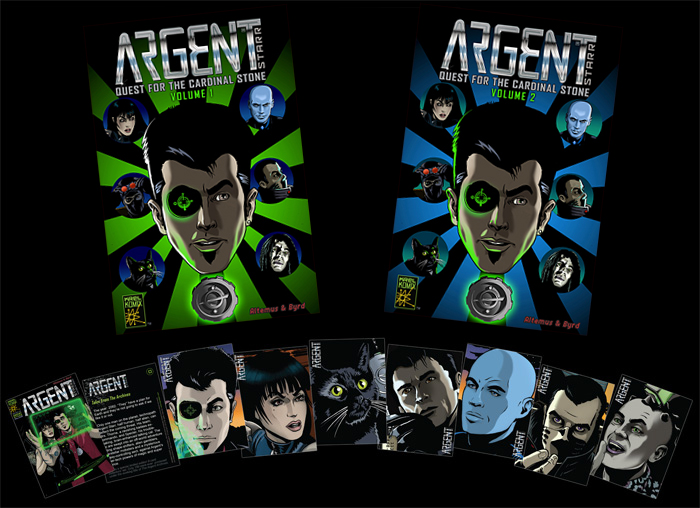 The cards in this set, each feature a portrait of one of the seven main characters with a brief bio on the back. This is a rare, hand bundled, PREMIERE set of cards. The portrait cards are branded with the project's working title — "Argent Archives, and the additional cover card is branded ARGENT STARR.
Only 150 sets of these, individually numbered, beautiful full color cards were ever produced, and no more will ever be made, so supplies are limited. Get the entire package for only $34.99 Plus USPS domestic shipping of $4.50.
Use the Pay pal button below to purchase.
---
CURRENT ISSUES AVAILABLE ONLINE
Quest for the Cardinal Stone — An eight book arc.

CHAPTER 1
Commencing
Countdown
24 pgs.+ covers

Digital First on
COMIXOLOGY
for only 99¢


Collectors POD print edition on
INDY PLANET
for only $3.99

---


CHAPTER 2
Seven
On Earth
24 pgs.+ covers

Digital First on
COMIXOLOGY
for only 99¢


Collectors POD print edition on
INDY PLANET
for only $3.99

---


CHAPTER 3
Cracked
Actor
24 pgs.+ covers

Digital First on
COMIXOLOGY
for only 99¢


Collectors POD print edition on
INDY PLANET
for only $3.99

---


CHAPTER 4
Cyg City
Blues
24 pgs.+ covers

Digital First on COMIXOLOGY
for only 99¢


Collectors POD print edition on
INDY PLANET
for only $3.99

---

CHAPTER 5
Station
To Station
24 pgs.+ covers

Digital First on
COMIXOLOGY
for only 99¢


Collectors POD print edition on
INDY PLANET
for only $3.99

---

CHAPTER 6
Silhouettes
& Shadows
32 pgs.+ covers

Digital First on COMIXOLOGY
for only 99¢


Collectors POD print edition on
INDY PLANET
for only $3.99

---

CHAPTER 7
Let's
Dance
32 pgs.+ covers

Digital First on
COMIXOLOGY
for only $1.99


Collectors POD print edition on
INDY PLANET
for only $3.99

---

CHAPTER 8
Out Of
The Blue
24 pgs.+ covers

Digital First on
COMIXOLOGY
for only $1.99


Collectors POD print edition on
INDY PLANET
for only $3.99

---


VOLUME 1
116 pgs.+ covers
Collects chapters 1 – 4


Digital First on
COMIXOLOGY
for only $3.99


Collectors POD print edition on
INDY PLANET
for only $14.99

---


VOLUME 2
132 pgs.+ covers
Collects chapters 5 – 6


Digital First on COMIXOLOGY
for only $3.99


Collectors POD print edition on
INDY PLANET
for only $14.99

---