THE CHARACTERS
Whether alien, animal or human, Argent Starr — Tales From The Archives features a cast of original and memorable characters. Learn more about the principal characters currently featured in the story Quest for the Cardinal Stone.
CAUTION READ CHAPTERS 1 & 2 FIRST: CONTAINS SPOILERS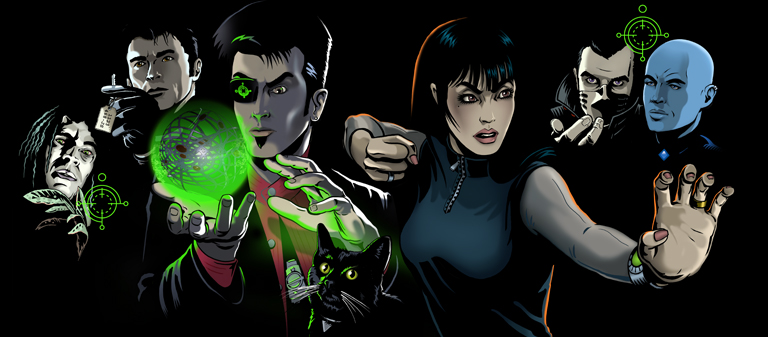 ---

Argent Starr
| | |
| --- | --- |
| Aliases: | Argent Sevenson, A+ |
| Origins: | Earth |
| Species: | Kohntrarian/Human |
| | |
♦ Secret guardian of Earth, super-scientist, genius inventor, explorer, amateur magician, true of heart, analytical, adventurous, fastidious, sardonic. Known off-world as a Teklok, a technological sorcerer.
♦ Father: BoB:7, a rogue alien warrior-scientist, agent of The Code. Mother: Earth-born Dr. Celia Starr, herself a descendant of healers, psychics and witches.
♦ He inherited his massive intellect and scientific curiosity from his father who augmented him from birth with nanites to strengthen his cross-species nervous and immune systems. As an unintended result he gained the technopathic ability to subvert electronic systems, control nearby machines and computers remotely with little more than a thought.
[ TOP ]
---
Mrs. Thorne
| | |
| --- | --- |
| Aliases: | Jaxon Thorne, Jax, Sergeant Thorne |
| Origins: | Earth/New York |
| Species: | Human |
| | |
♦ Argent's bodyguard and friend, ex-military weapons and demolition specialist, nanite enhanced by Argent for endurance and strength.
♦ Loyal, prideful, inquisitive, hot-tempered, very bright, cusses too much and is prone to violence but exhibits focused presence of mind and intelligence under extreme pressure.
♦ Employs a suite of incredibly advanced high-tech weapons, invented for her by Argent.
[ TOP ]
---
Specter
| | |
| --- | --- |
| Aliases: | X679, "The Cat", Gata Loca |
| Origins: | Earth |
| Species: | Feline, Domestic shorthair |
| | |
♦ Argent's cat and familiar, both companion and scientific experiment.
♦ Fierce, adventurous, curious, loyal, intuitive, impulsive, silly.
♦ A nearly dead stray found by Mrs. Thorne, who implored Argent to save her. He implanted the not quite brain-dead animal with a chip that not only saved her, but increased her mental abilities to that of a six-year-old human, and then wirelessly linked her to his brain to monitor the results.
♦ Speaks a bit of rough Spanish, and is given to coarse language under stress since her vocabulary words mostly come from Mrs. Thorne and Mexican wrestling TV shows.
♦ Affectionate, but devoted only to 'Señorrr' Argent and 'Señorrra' Thorne. Like most six-year-olds, she has no "filter", and will blast out a string of foul curses in Spanish at anyone she's got a beef with.
---
Lazarus Stern
| | |
| --- | --- |
| Aliases: | Stern has an alias for every situation, too many to count. Only a handful have been unearthed including; Simon Maccabee, Ezra Bloom, and Aaron Lopez. |
| Origins: | Earth |
| Species: | Human |
| | |
♦ g_Division intelligence operative, patriotic, hyper-observant, charismatic, secretive, seductive, cool, confidant, brave, ready for anything.
♦ Multi-lingual, highly decorated and supremely trained US counter-intelligence spy.
[ TOP ]
---
Rey Zyten
| | |
| --- | --- |
| Aliases: | Lucky Blue Bastard, Mr. Z, and countless undocumented, one for every shape |
| Origin: | Unverified |
| Species: | Shape Shifter |
| | |
♦ Gambler, mining developer, high-end grifter, felon-at-large.
♦ Ego-maniacal, incestuous, hyper-competitive, homicidal, conniving, ruthless, obsessive, foul-mouthed, unpredictable, amoral, vindictive, rapacious, impulsive. Possibly psychotic.
♦ Thought to be the last of his kind, a Gamma ray and radiation-loving, shape-shifting alien from a planet obliterated by fearful neighbors over a century ago.
[ TOP ]
---
Reeno (the Lupetin)
| | |
| --- | --- |
| Aliases:: | The Lupetin, Gilly |
| Origin: | Lupis Prime |
| Species: | Lupetin |
| | |
♦ Rey Zyten's info-scout, investigator and bodyguard
♦ Highly capable, tireless, dedicated, quiet, loyal, secretive, a survivor.
♦ From a planet with a rarefied gas atmosphere, he wears a face plate or 'Fraah' to control air-filtration as well as communication, and to aid his natural defense systems.
♦ Indentured to professional gambler and con-man, Rey Zyten, as his advance operative and intelligence agent. Rumor is that Zyten won the Lupetin's contract via a game of paKAR in the sub-level of a Fireball X-L 5 space cruiser.
[ TOP ]
---

BoB:62
| | |
| --- | --- |
| Aliases: | Sixtwo, Dr. Sextoo, Bumpy |
| Origin: | Latara-Paratha 3 |
| Species: | Parathite |
| | |
♦ An alien with a life-span of well over 250 Earth years, trained from birth to become a high officer serving The Code. Raised and educated at a Code Sanctuary, indoctrinated in it's ways and beliefs, upon graduation granted the title of 'BoB' and given a number based on his rank within his assignment sector.
♦ Due to irregularities during his previous two assignments his rank was lowered and he was placed on probation. In 2037 (TD) he was sent to Earth to report activities or violations of The Code quarantine, to accumulate planetary wealth and influence and manage the long-term planetary pacification program.
♦ He often wears a long spinach-green dreadlock wig to cushion his 'lootahs' (skull nodes). He requires a gelatin-based conductor applied to these skull nodes in order to get the most out of the many earthgirls he hires for sex, so he keeps a whole rainbow of Jell-O dessert cups on hand.
[ TOP ]
---
BoB:7
| | |
| --- | --- |
| Aliases:: | On Earth: Robert Seven, Bob Goodyear. During his various galaxy-wide missions in service of The Code he's had multiple ranks, titles and aliases: Gralth Mohult, BoB 46, BoB 197, bit 274337. |
| Origin: | Kohntra |
| Species: | Kohntrarian |
| | |
♦ An alien with a life-span of nearly 400 Earth years, trained and indoctrinated from childhood to become a BoB, a high officer serving The Code.
♦ Focused, highly capable and intelligent, fastidious and precise in all things, steadfast, dedicated to The Code which raised him, and interested in philosophy (forbidden by the Code), mathematics, and mythology.
♦ Seven landed on Earth in 1962 on a mission for The Code to locate Item 16, the alien orb known as the Cardinal Stone. He developed reasons for questioning the virtue of his mission, became involved with an Earth woman, broke his vows to The Code, faked his death and stayed on Earth, eventually fathering Argent, with her.
[ TOP ]
---
Dado Chang
| | |
| --- | --- |
| Aliases: | Chango, The Big Man, The Lieutenant |
| Origin: | Earth, New York City |
| Species: | Human |
| | |
♦ Born in New York City to parents of Brazilian and Chinese decent. Owner of Chang's Empire Casino in NYC, gambler; businessman, ex Lieutenant in the US Rangers, security consultant, mercenary soldier. Maintains private security force, Chang's No.1.
♦ Focused, keen strategist, a leader, risk taker, demands loyalty, likes collecting precious rarities, illegal fightclubs, deep-sea diving and showgirls.
♦ As an anchor tenant for the newly designated 'Empire District' in New York City, he was allowed by city government to be responsible for staffing and overseeing the new BID-34 Militia, now referred to as the Empire Militia, a local municipal security service that patrols the former 34th Street Business Improvement District.
[ TOP ]