Official Press Release,
January 31, 2019 New York, NY
A SCI-NOIR, CYBER-PULP, ACTION-ADVENTURE, COMEDY
By Altemus & Lyn T. Byrd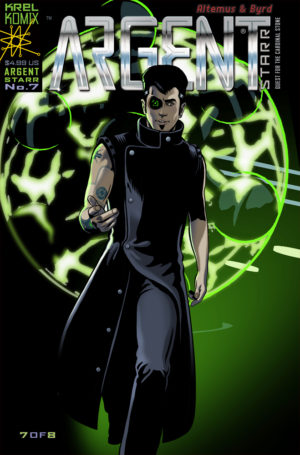 Our fans spoke and we listened!
Readers really liked our off-beat characters, beautifully realized world and unusual storyline, but had to read the books three times to keep track of everything. We realized that we gave readers too much too early, and that some complex story elements could still be made clearer. So we created an entirely new edit for the first four chapters of our tale, same story, only told better.
This retitled and re-cut Argent Starr — Tales From The Archives, features hot new covers, new pages, added interior art and a even a few new balloons. Now Argent Starr's universe reads and looks better than ever. The rest of the series remains unchanged, but for our fans who already bought the first four chapters, congratulations, those versions will never be made available again, and you now own super-collectibles.
Argent Starr — Quest For The Cardinal Stone. Ch. 7: entitled LET'S DANCE, is 32 full-color pages, where things don't go as expected, and the action ramps up for the half-alien technopath Argent Starr, his Latina bodyguard ex-sniper Mrs. Thorne and his ill-tempered talking cat Specter. Its sure to be an interesting ride for fans of the 'different'! This is the 7th of 8 chapters in this story arc. And it doesn't end there — a lot more science, fun and adventure is brewing with future issues and spin-offs already in production.
The new versions of books 1-4 are available on Comixology.com along with chapters 5-7 for only 99¢ ea, and on IndyPlanet.com as beautifully printed books for only $3.99 ea. or digitally for 99¢.
For more info on Argent Starr's universe or to check out videos or our Webcomic, go to argentstarr.com. New chapters 1—3 are fully posted there and FREE for all to enjoy.