Argent Starr co-creator Lyn T. Byrd was a core member of the unique '80s synth-pop band the Comateens, along with the very talented brothers Nic and Oliver North. This New York new wave band melded sometimes dark melodies and tight funk basslines with energetic popcorn guitar riffs, and beautiful harmonies, that build these memorable '80s dance grooves.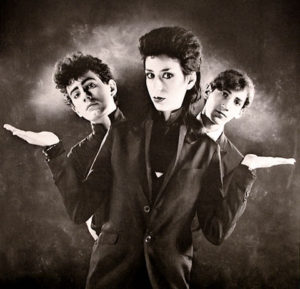 In this rare, recently surfaced video, shot at a sound check at NYC's iconic the Pepermint Lounge by the BACO Canal, Spanish TV crew, the Comateens turn in an almost flawless four-song set. This performance is done in pure 'Teens style, with no breaks between numbers, and includes three of their original tunes; Get off my case, Crime time and The late mistake as well as a great cover of the Crystals' 1962 hit Uptown.
The core of the group was the band's leader Nic North on bass, Lyn T. Byrd on keyboards, Oliver North on guitar, and Rolly — a Roland CR-8000 CompuRhythm drum machine. For those who were not fortunate enough to see the Virgin France recording artists back in the day, this is a great intro to their music and style.