Official Press Release,
October 1, 2016 New York, NY
Krel Komix is exhibiting at the New York Comic Con Oct. 9 – 12 with an exclusive SHOW SPECIAL, Argent Starr — Tales From The Archives Vol. 1 Pre-Release & appearances by creators Altemus & Byrd.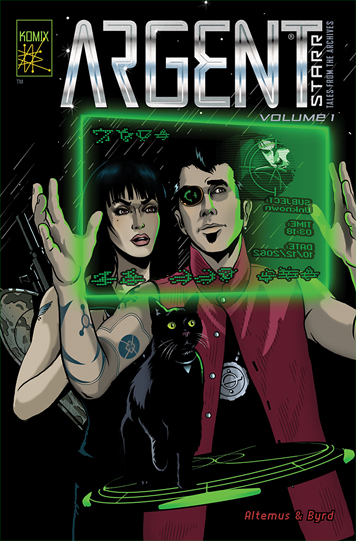 This year Argent Starr creators Altemus and Lyn T. Byrd will be at our corner booth (#1245) in the Small Press area for interviews, to sign books, and chat with Comic Con attendees.
NYCC Show Special
Visitors to our booth can get a signed pre-release copy of Volume 1 of the graphic novel AND their choice of an Argent Starr poster for only $12.99 (regularly $13.99). This beautifully printed 104 page all-color collector's volume includes all the action from chapters 1-3, along with pin-ups and background info on the universe, characters, locations and Argent's magical tech.
As of Oct. 12, Vol. 1 will be released onComixology — digital download for $4.99 and on IndyPlanet.com — print-on-demand copies for $13.99.
We'll be offering 7 different dynamic poster designs featuring characters from the series, exclusive sets of collectable Argent Starr trading cards, buttons, dice, matchbooks and a limited quantity of single issues 1-3 for those who want to sample our universe or complete their collection. Visitors can join our email list for a chance to win an Argent Starr T-shirt and recieve updates.
We will also be premiering an exciting animated trailer at the con, featuring the newly composed, kick-ass Argent theme by Luci Lightning and company (headphones provided).