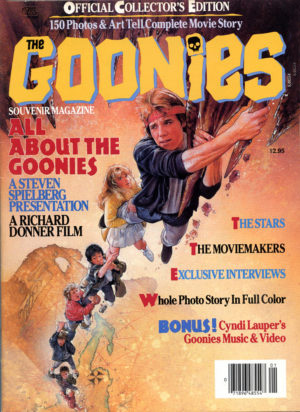 Years before becoming the co-creator of the graphic novel Argent Starr, Altemus was the designer and Design Director of the official magazines for nearly twenty sci-fi and fantasy movies produced throughout the '80s and '90s. These were official studio licensed products, published by Ira Friedman Inc.
Though these magazines were largely visually driven, they included excerpts from exclusive interviews of the cast and crew by IF's excellent writer-editor Bob Woods. With direct and full access to the studio, these publications featured top-notch editorial that told the film's story as well as the inside story of the film's making.
Great action and studio photography was packaged along with; tons of behind-the-scenes info, exclusive reproductions of pre-production art, on the set photography and actual props sent to be shot. 1985 was a big year, with the team producing four of these iconic magazines for the films; Back To The Future, Mad Max — Beyond Thunderdome, The Goonies, and Young Sherlock Holmes.
---
[Above] Magazine flip-through video.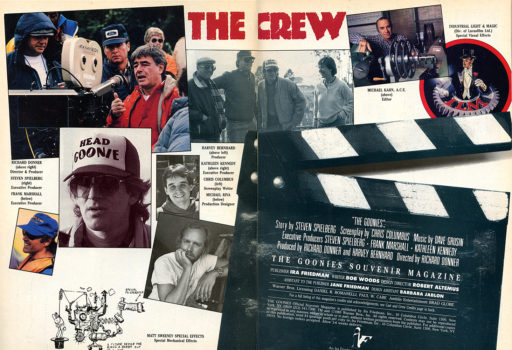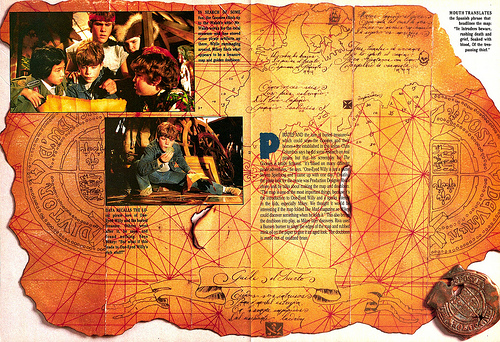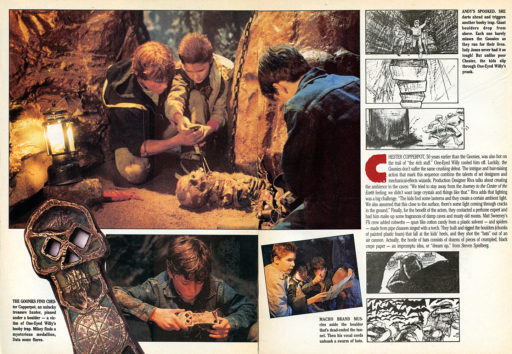 SAMPLE MAGAZINE SPREADS
[Left] spread featuring the film's crew and the magazine's staff, Goonies map and coin spread, Goonies treasure key spread. These movie magazines would start production about one year prior to the film's release.
During the process, the movie studio would send production art as well as original props such as the Goonies skull key, treasure map and a Doubloon, all sent to the magazine to be photographed.
---
OFFICIAL MOVIE MAGAZINES PRODUCED BY IRA FRIEDMAN PUBLISHING
Blade Runner 1982
Gremlins 1984
The Goonies 1985
Back To The Future 1985
Mad Max 1985
Young Sherlock Holmes 1985
Karate Kid II 1986
Howard The Duck Poster Magazine 1986
Dragnet 1987
License To Drive Poster Magazine 1988
Batman 1989
Batman Returns 1992
Jurassic Park 1993
Batman Forever 1995
Batman Forever Poster Magazines (Batman, Robin, Two-Face, Riddler) 1995
Batman & Robin 1997
The Lost World Jurassic Park 1997
Star Wars Heroes: 20th Anniversary Poster Magazine 1997
Star Wars Villains: 20th Anniversary Poster Magazine 1997
---
RARE GOONIES COLLECTIBLE
[Below] Detail photos of the iconic 1 lb. 1 1/2 oz.  Goonies key that was the same one displayed in the official 1985 magazine, and that Altemus still holds today.
This was one of the original prototype's for the key movie prop. It was one of four or five that were struck by the production company, with this one sent to use in the magazine, along with a dibloon and a map.
This key varies from the on-screen one, in that the bottom corner holes are not punched through to accept a lanyard (this is why when it was used in the magazine its bottom bled off the page), also there is no design etched into the back.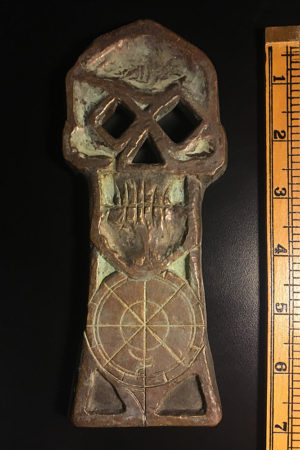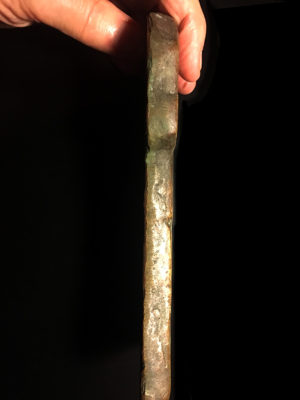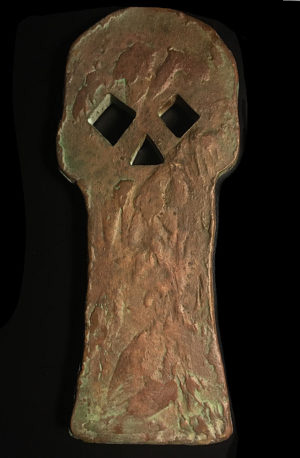 ---
MAGAZINE FLIP-THROUGH
[Bottom] To virtually flip through the pages of The Goonies magazine with more detail, check out the entire publication below (from a posting at issuu.com).