Official Press Release,
September 04, 2018 New York, NY
A SCI-NOIR, CYBER-PULP, ACTION-ADVENTURE, COMEDY
By Altemus & Lyn T. Byrd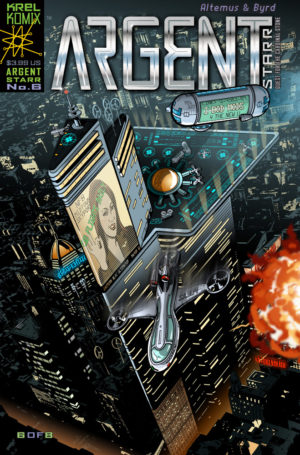 Argent Starr — Quest For The Cardinal Stone. Ch. 6:  is 32 full-color pages, where things don't go as expected at the Deca-Game, and the action ramps up for the half-alien technopath Argent Starr, his Latina bodyguard ex-sniper Mrs. Thorne and his ill-tempered talking cat Specter. Its sure to be an interesting ride for fans of the 'different'! And it doesn't end there — a lot more science, fun and adventure is brewing with future issues and spin-offs already in production.
The new versions of books 1-4 are available on Comixology.com along with chapters 5-7 for only 99¢ ea, and on IndyPlanet.com as beautifully printed books for only $3.99 ea. or digitally for 99¢.
For more info on Argent Starr's universe or to check out videos or our Webcomic, go to argentstarr.com. New chapters 1—3 are fully posted there and FREE for all to enjoy.