Official Press Release,
July 10, 2018 New York, NY
A WISE-CRACKING ACTION-ADVENTURE IN A SCI-FI NOIR SETTING
By Altemus & Lyn T. Byrd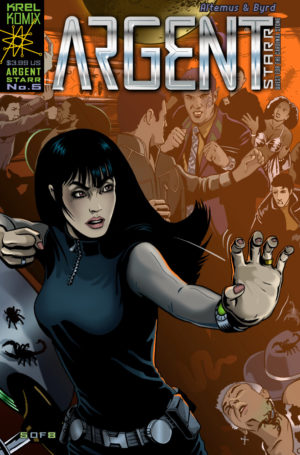 Chapter 5, is a full-color 29 page story, where things don't go as expected for Argent and his team at the Deca-Game, and the action ramps up. The book is now available, on Comixology.com like all the earlier chapters for only 99¢, and on IndyPlanet.com as a digital download, also for 99¢ or as a beautifully printed book for only $3.99.
The rest of this seven book arc, for the story of The Quest for the Cardinal Stone, is sure to be an interesting ride for fans of the 'different'! with the title's bi-monthly releases.
Readers who want a sample of Argent Starr's universe can check out our Webcomic at argentstarr.com. Chapters 1—3 are fully posted and FREE to all, If you want to read more get a FREE SUBSCRIPTION, new pages are being released every Monday and Thursday, until the tale is told. And it doesn't end there — a lot more science, fun and adventure is brewing with future issues and spin-offs in production.