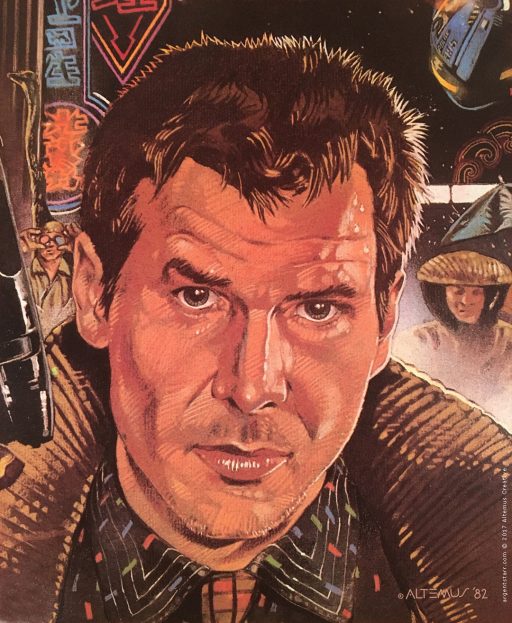 In 1982, Altemus, the co-creator of the graphic novel Argent Starr, was working as a freelance illustrator and designer. One of his favorite projects was a centerfold poster for the official souvenir magazine of Blade Runner.
He was also working on designing that magazine, and had access to the script, great stills and production art to use as reference, all months before the film's release. Altemus was so taken with the look of Harrison Ford's character Deckard, that he adopted the small pattered shirt with the skinny checked tie as his personal look at the time.
The sci-noir world depicted in Argent Starr, like many other books and films, certainly was influenced by the look of  Ridley Scott's 1982 production of Blade Runner, based on Philip K. Dick's novel, Do Androids Dream of Electric Sheep.
In honor of the new Blade Runner 2049 film's release, we are posting a variety of images and info on the Argent Starr blog, of materials retained from the 1982 Blade Runner project.
This is a tight detail of Harrison Ford as Deckard, from the Blade Runner magazine centerfold poster, illustrated by Altemus. The artist managed to work himself into the background on the left side, in appropriate costume.
Blade Runner Official Trailer (1982)
---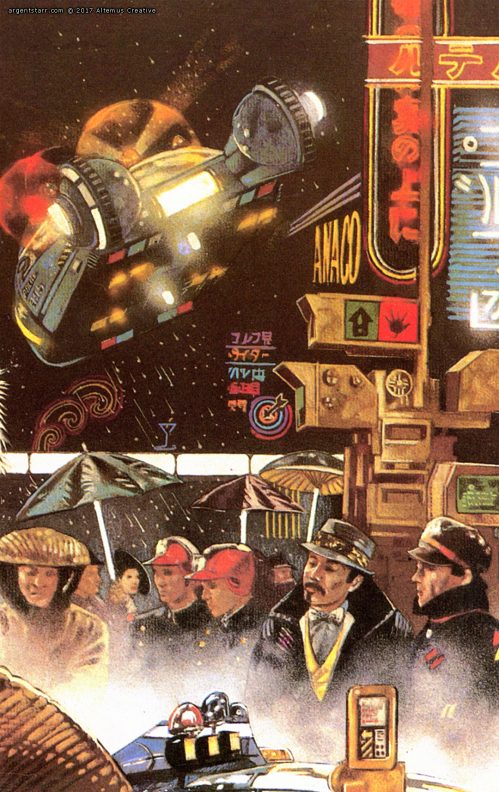 A tight detail from the background of the poster, depicting one of the many memorable street scenes, with a police Skinner rising up, and Deckard's fellow Blade Runner, Gaff (Edward James Olmos).
---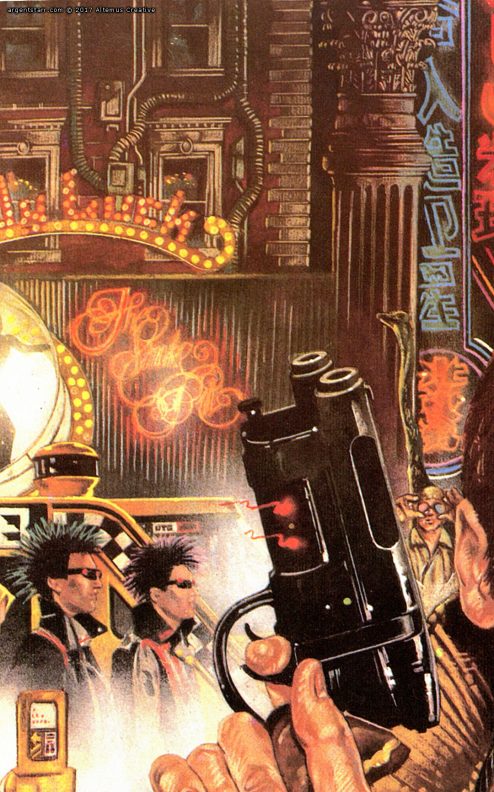 Another tight detail from the background of the poster, depicting the film's grimy retro-futuristic sets, post punk populace, and Deckard's iconic gun, which was based on a design by visionary industrial designer Syd Mead.
---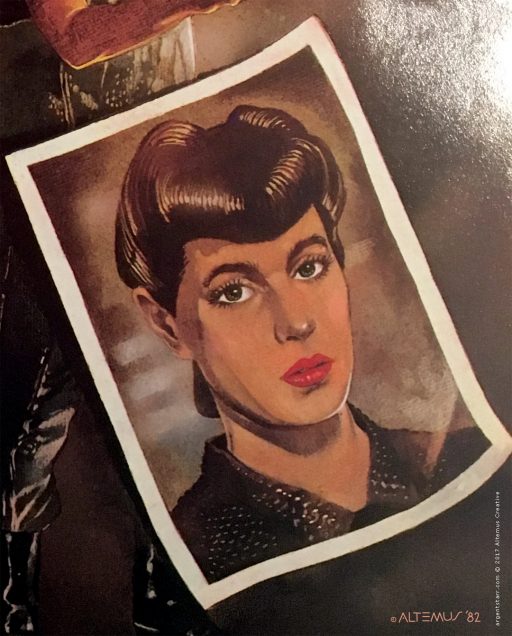 A tight detail from the the poster, depicting a snapshot of Sean Young as the lovely replicant Rachael.
---

A detail of a central group image, featuring the rogue replicants Priss (Daryl Hannah), Zohra (Joanna Cassidy), Roy (Rutger Hauer) and Leon (Brion James).
---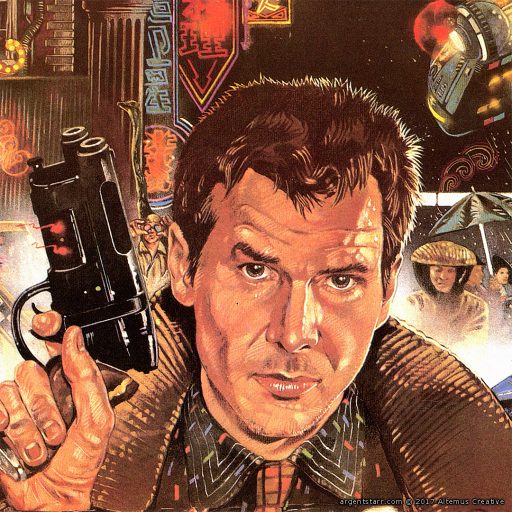 A tight detail of the posters central image, of Deckard brandishing his iconic firearm.
---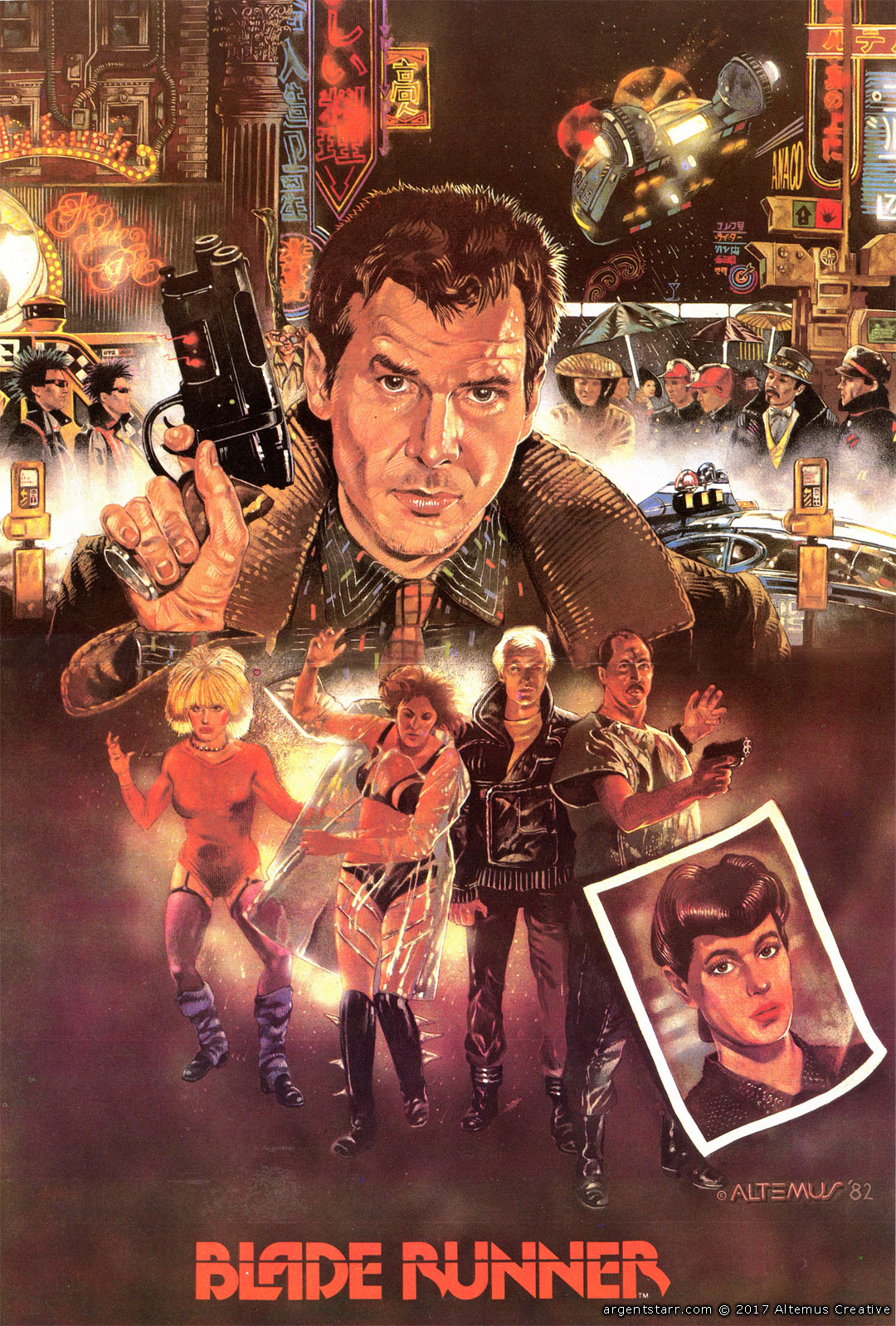 The final, full 11″ x 17″ montage poster, as it appeared in the 1982 centerfold of the magazine.
---